King Frog Spare Tire Cover
$69.95 – $89.95
Description
King Frog Spare Tire Cover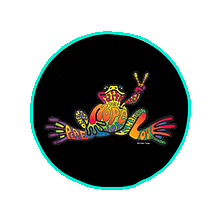 Who was the king of the frogs?
To teach the Frogs a lesson the ruler of the gods now sent a Crane to be king of Frogland. The Crane proved to be a very different
sort of king from the old King Log. He gobbled up the poor Frogs right and left and they soon saw what fools they had been.
       What is the message of the frog king?
One of the messages that this story sends is the importance of keeping your promises. The princess is reluctant because
passing time with a frog does not seem appealing to her, but the king insists. Her father says, "That which thou hast promised must thou perform.
        Where did the frog king originate?
The Frog King is a strange and wonderful fairy tale with a long history; indeed, a version of it existed as early
as the thirteenth century in Germany (a Latin version of the tale) (Heiner 2002).
        Does a frog turn into a prince?
In the original Grimm version of the story, the frog's spell was broken when the princess threw the frog against the wall,
at which he transformed back into a prince, while in modern versions the transformation is triggered by the princess kissing the frog.
        What does the frog symbolize?
        What does kiss a frog mean?
May 5, 2011, 2:12 PM. A common phrase in the venture business is that you have to "kiss a lot of frogs to find a prince", meaning that you have to look at a lot of companies to find the real gems. I think folks outside of the venture industry think that it's very obvious when a great company comes along for investment.
May 5, 2011
Protects spare tire wheel finish
A stylish form-fitting cover gives your Jeep a more finished look.
Technical Details
Manufacturer Custom Grafix Industries.
Brand Custom Grafix Tire Covers
Item Weight 48 ounces
Brand
Custom Grafix Tire Covers
Tire Covers Manufactured by Custom Grafix Industries in Florida USA